Brush News
Home

Brush News
What Kind Of Fish Pond Sewage Filter Brush Is Good?
Koi are known as "living gems in water" and "king of ornamental fish"; koi are also called "rich fish" and "noble fish" because of their gorgeous colors, such as peony in water. Koi have high requirements on water quality. If the water quality is not treated well, the koi will lose their former style, so there is a saying that raising fish first raises water. Just like choosing a brush, you must choose the right one. What kind of fish pond sewage treatment brush is the best? Let's find out together.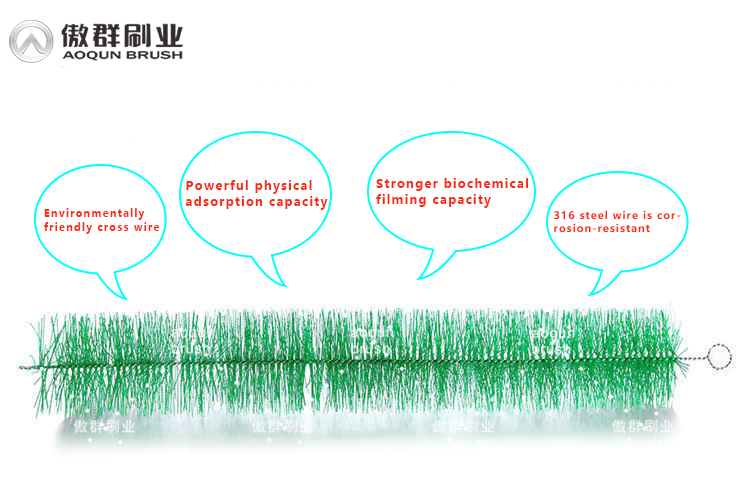 1. The fish pond sewage filter brush is made of pure material, which is environmentally friendly, non-toxic, high flexibility, strong bending recovery force, not easy to deform, and has a long service life.
2. The skeleton is made of high-quality 304 stainless steel wire, which can not only prolong the product life but also prevent the pollution caused by the oxidation of low carbon steel and coated low carbon steel wire. Avoid long-term growth of koi in a polluted environment to affect the appearance.
3. The tension of the fish pond sewage filter brush is firm - 5 filaments ≥ 3 kg, and the filaments will not drop.
4. The cruciform wires are naturally distributed along the spiral diameter, with uniform density, which can cut air bubbles and intercept suspended substances in water.
Aoqun Brush Factory specializes in the production of
fish pond sewage filter brushes
for 11 years, and the products are sold well in Japan, South Korea, Thailand, Malaysia, South Korea, the United States, and other countries. Use a good fish pond sewage filter brush to protect the water, protect the koi, and make the pond come alive.