Sterile Trach Endotracheal Tube Cleaning Tracheostomy Brush
Tracheostomy Tube Cleaning Brushes, manufactured by AOQUN, helps with cleaning and maintaining your trach tube.

Tracheostomy Tube Cleaning Brush is available and features a loop handle to help the user performing the
cleaning to maintain a secure grip. Tracheostomy Tube Cleaning Brushes are made with a wire handle that
can be bent or kept straight. The flexibility makes this brush more versatile with cleaning curved or straight
trach tubes. The small size of this item makes it useful for also cleaning tracheostomy. This brush is designed
with nylon bristles, a 6" handle.

Ⅰ.Trach Brush Features and Benefits

• Helps with maintaining and cleaning trach tubes.
• Bendable wire handle.
• Can be used to clean cannulas.
• Useful for cleaning straight or curved trach tubes.
• Loop handle to help with secure grip.

Ⅱ.Tracheostomy Cleaning Brush


Please give us size and material refer to below drawing and sheet to make
your customized tracheostomy brush, thank you!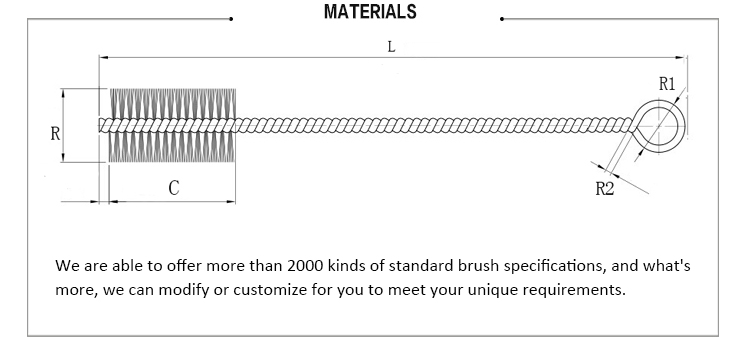 Ⅲ.Brush Head Process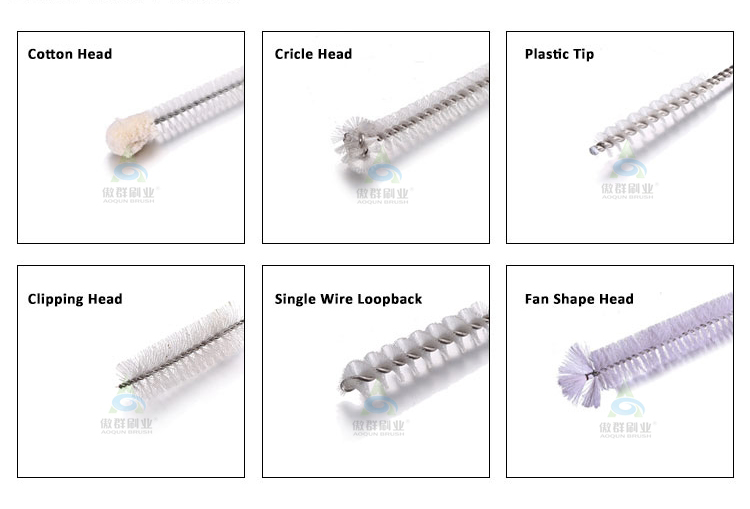 Ⅳ.Brush Handle Process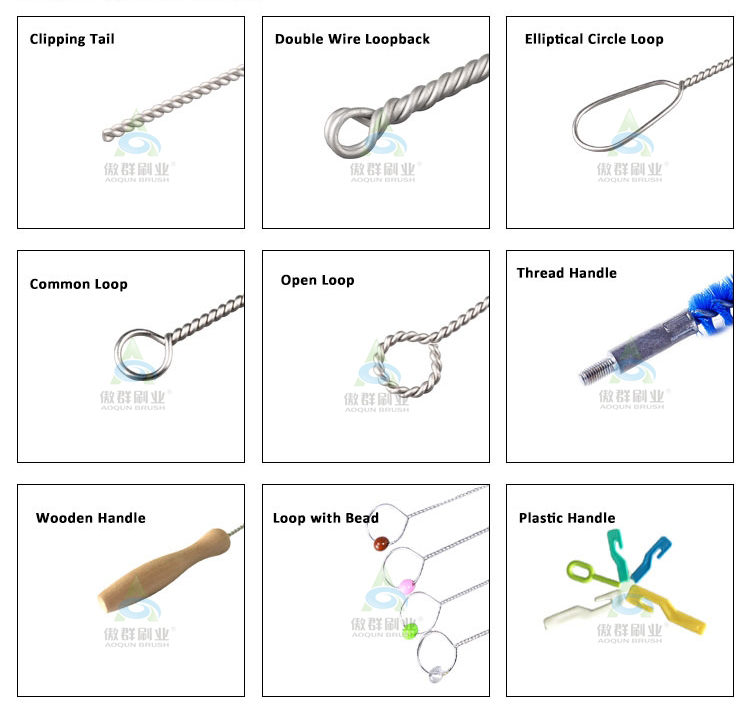 Ⅴ.Product Details
| Brush Parameter | Brush Customization |
| --- | --- |
| Brush Diameter | 1mm-500mm |
| Brush Length | 8mm-2950mm |
| Overall Length | 10mm-3000mm |
| Brush Shape | Cylindrical, Conical, Irregular Shape |
| Filament Material | PA, Bristle, Sisal, Cotton, etc. |
| Handle Material | Stainless Steel, Wood, Plastic, etc. |
| Brush Head | Cotton Head, Cricle Head, Plastic Tip, Clipping Head, Fan Shape, etc. |
| Handle Process | Wire, Wood, Plastic, Loop, Thread, etc. |
| Brush Features | Can Be FDA Complies |
| Certifications | RoHS, SVHC |
| Usage Scenarios | Tracheostomy Tube Cleaning |
| Industry | Medical Use |