Small Cleaning Wheel Cup Metal Brass Stainless Steel Wire Brush for Drill Grinder Cleaner
AOQUN Brush Specializes in the customization and production of different types and size
wheel cup wire brushes.
Ⅰ.Twisted Wire Hole Brush
1. AOQUN Twisted Wire Hole Brush comply with ≥ 30 EU industry standards such as RoHS/SVHC.
2. Annual production capacity ≥ 200 million pieces, sale to ≥ 50 countries and regions.
3. Long term cooperation with many well-known phone manufacture companies, have complete categories
and diverse styles.

AOQUN wheel cup wire brush is perfect for cleaning and polishing. Durable and aggresive brush
material for through deburring, polishing, cleaning of debris and dust, easy to install on the
machines and tools.
1. Ideal for cleaning and decarbonising areas with limited access;
2. Especially injector apertures before refitting;
3. Supplied in sizes from Ø9-19mm in brass, nylon and steel;
4. Match quick release extension bar for increased reach;
5. Easy to mounted on CNC high-speed polishing machine.
AOQUN Wheel Cup Wire Brushes can clean and remove burrs, debris from various industrial use tube/pipe w/o
mounted on electrical tools. Choose the right tube wire brush and use it with advanced technology will have
great effect on productivity improvement.


Ⅱ.Brush Specification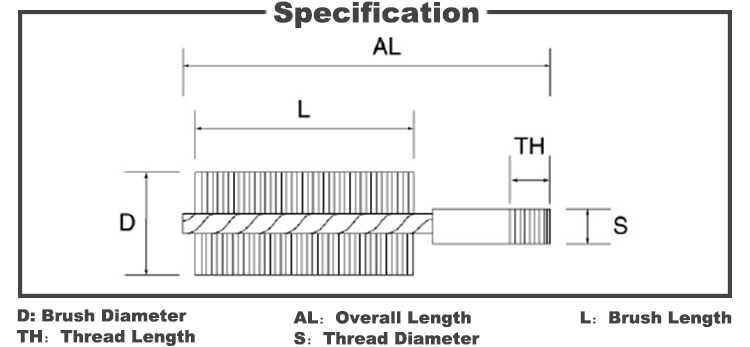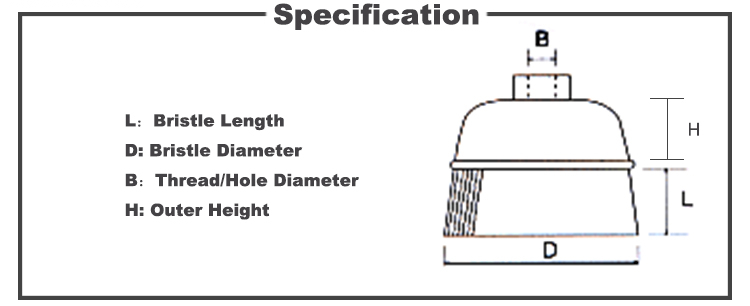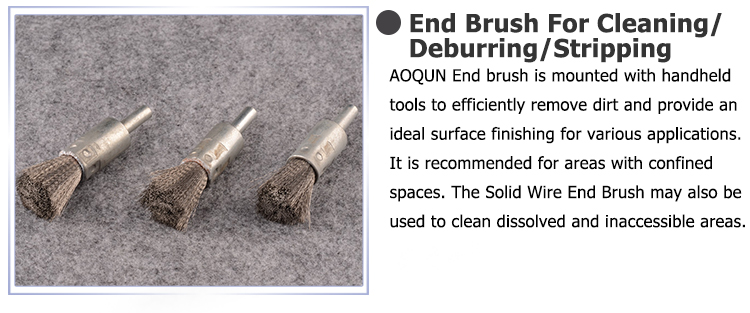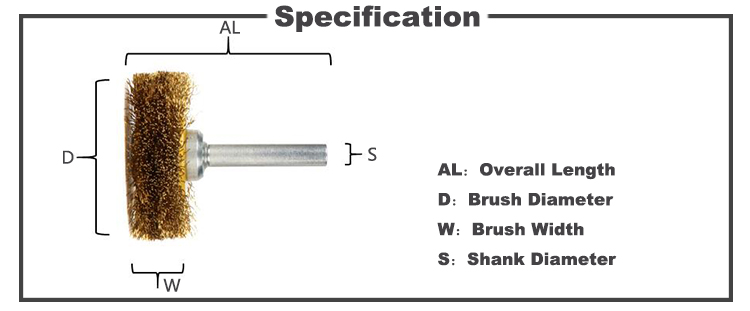 Please give us size and material refer to below drawing and sheet to make
your customized wire brush, Thank you!

Ⅲ.Product Details
| Brush Parameter | Brush Customization |
| --- | --- |
| Brush Diameter | 1mm-500mm |
| Brush Length | 8mm-2950mm |
| Overall Length | 10mm-3000mm |
| Brush Shape | Cylindrical, Conical, Irregular Shape |
| Filament Material | Copper, Bronze, Stainless Steel, Steel, PP, PBT, PA, Bristle, Sisal, Cotton, etc. |
| Handle Material | Stainless Steel, Wood, Plastic, etc. |
| Brush Head | Cotton Head, Cricle Head, Plastic Tip, Clipping Head, Fan Shape, etc. |
| Handle Process | Wire, Wood, Plastic, Loop, Thread, etc. |
| Brush Features | Corrosion Resistance |
| Certifications | RoHS, SVHC |
| Usage Scenarios | Polishing, Deburring, Grinding, Cleaning, etc. |
| Industry | Industrial Use |