Reusable Disposable Flexible Sterile Medical Scope Endoscope Cleaning Brushes
From the ultra small to large, AOQUN design and produce the Medical Scope Cleaning Brush for
Endoscope that is the right size to clean all the scope instruments. Choose from extra long- small
diameter endoscopic brushes or from the standard size endoscopy brushes. All cleaning brushes
are made of brand new and pure nylon bristles imbedded in twisted stainless steel wire or plastic
cover.

Ⅰ.Specification of Endoscope Cleaning Brush
1. 3.0 hot melt technique, the endoscope brush head does not easy fall off, the clean
process is safer;
2. Watch-level polish, smooth and no scratch, can better protect the instrument;
3. The material conforms to national or industry standards;
4. Provide flexible customization and adapt to various scope channels.


Soft, white medical anti-microbial nylon bristles with bulbous safety tip and spring loaded brush head
allows for safe, non-stressful navigation through channels. A full range of disposable and reusable
brush for endoscope designed to clean flexible soft and rigid endoscopy equipment, including
but not limited to bronchoscopes, colonoscopes, duodenoscopes, gastroscopes, rhinoscopes
and sigmoidoscopes.

Ⅱ.Brush Material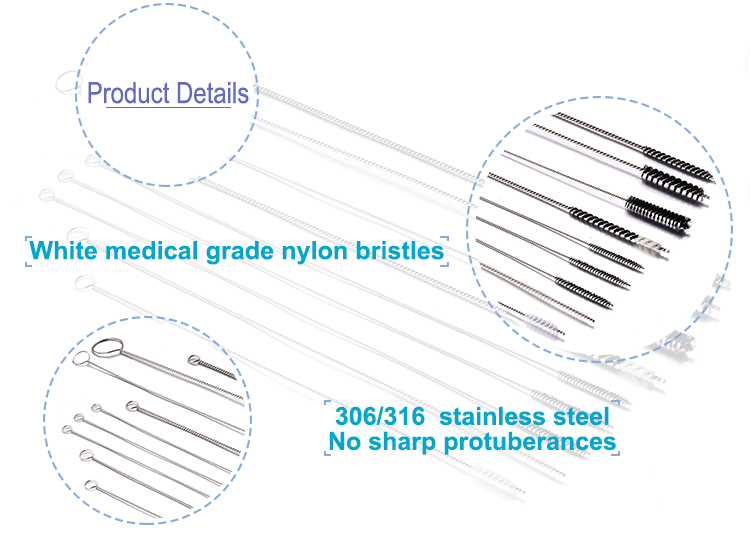 Please give us size and material refer to below drawing and sheet to make
your customized endoscope brush, Thank you!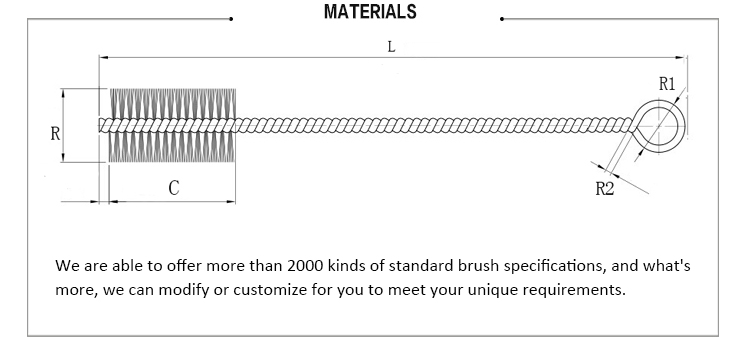 Ⅲ.Brush Head Process

Ⅳ.Brush Handle Process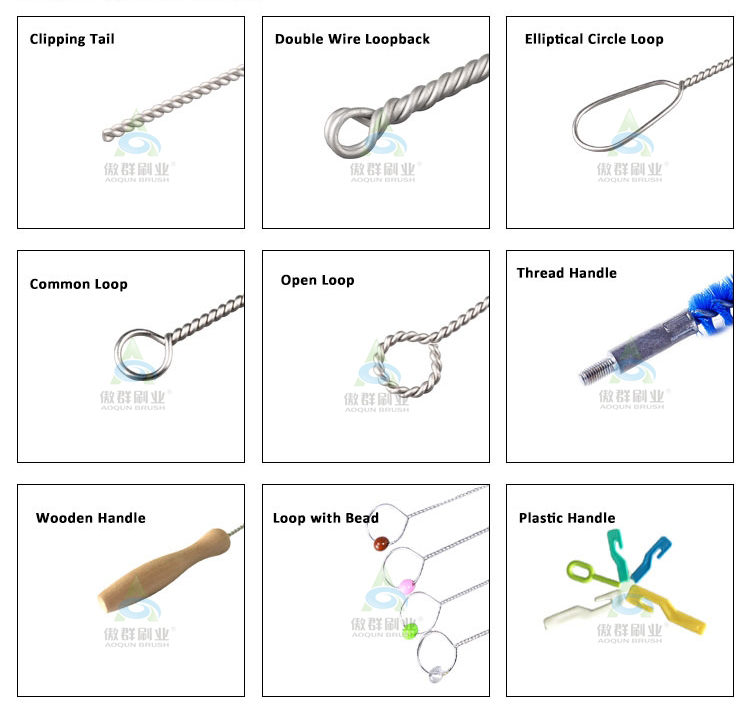 Ⅴ.Product Details
| Brush Parameter | Brush Customization |
| --- | --- |
| Brush Diameter | 1mm-500mm |
| Brush Length | 8mm-2950mm |
| Overall Length | 10mm-3000mm |
| Brush Shape | Cylindrical, Conical, Irregular Shape |
| Filament Material | PA, Bristle, Sisal, Cotton, etc. |
| Handle Material | Stainless Steel, Wood, Plastic, etc. |
| Brush Head | Cotton Head, Cricle Head, Plastic Tip, Clipping Head, Fan Shape, etc. |
| Handle Process | Wire, Wood, Plastic, Loop, Thread, etc. |
| Brush Features | Can Be FDA Compy and Antibecterial |
| Certifications | RoHS, SVHC |
| Usage Scenarios | bronchoscopes, colonoscopes, duodenoscopes, gastroscopes, rhinoscopes and sigmoidoscopes channel cleaning, etc. |
| Industry | Medical Industry |